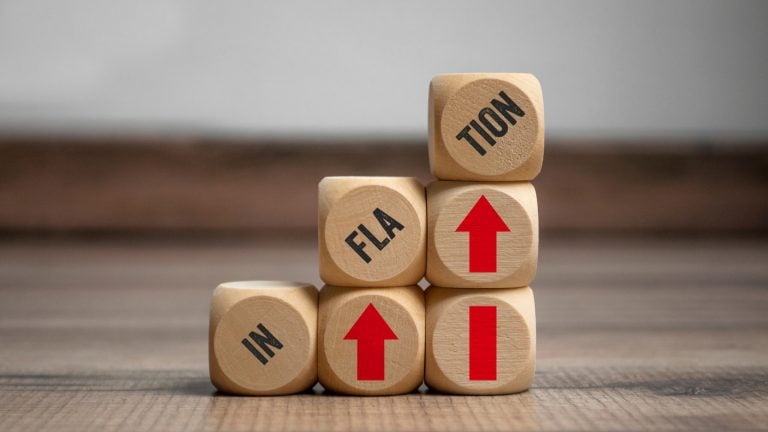 Source: stockwerk-fotodesign / Shutterstock
The October Consumer Price Index report is here and it is good. Indeed, with both analysts and economists holding their breath ahead of last week's inflation report, prices managed to ease to 7.7%, edging out most consensus estimates. The October CPI also showed an easing from September's 8.2% reading. While the fight isn't over — 7.7% is still far away from the Federal Reserve's 2% target — it's a strong sign that the central bank's tightening efforts haven't been in vain. Has inflation peaked?
Well, maybe. It can take years for an economy to fully feel the impact of interest rate hikes. Even after six sizable rate increases, the idea that the economy is finally reflecting the Fed's initiatives may be a bit of an overreaction. Some doe-eyed traders even believe October's cooler-than-expected CPI could push the central bank to forgo raising rates again, a notion many economists have repeatedly bashed.
Fed Governor Christopher Waller is one such economist, who warned of more rate hikes to come despite the strong CPI reading.
"It's good finally that we saw some evidence of inflation starting to come down. We're going to need to see a continued run of this kind of behavior on inflation slowly starting to come down before we really start thinking about taking our foot off the brakes here. …We've still got a ways to go. This isn't ending in the next meeting or two."
As Waller echoed, it's hard to deny the optimism this month's CPI inspired. Inflation may well be past its peak going forward. However, the story doesn't quite end there.
What else do you need to know about the October CPI?
October CPI Rally May Be Missing the Bigger Picture
Equity markets reacted triumphantly to last week's inflation report. The S&P 500 jumped more than 5% on the day of the report, one of its strongest trading days all year. Analysts were relieved to see inflation was easing and as mentioned, made some lofty conclusions about the Fed's future monetary decisions. Unfortunately, this may be jumping the gun.
Looking at the CPI in greater detail reveals several points of conflict with the current cheery narrative.
While the cost of goods eased in October, service prices are still growing. While "services less energy services" is the only major CPI category that appears to be accelerating year over year, it is also the most sizable CPI category. This is largely due to the "shelter" subcategory, which "contributed over half of the monthly all items increase," according to the Bureau of Labor Statistics.
Shelter has a 32% weighting for headline CPI, and a near-40% for core CPI, which excludes food and energy. Despite reports of falling home prices and rental rates across the nation in response to 7% mortgage rates, shelter prices grew 0.8% month over month, with rent itself up 0.7%. Shelter inflation is considered a lagging indicator, as such, it may be some time before we see the index accurately reflect changes in the housing market.
With that said, should rental rates prove more inflationary than economists predict, especially given the state of housing, the CPI may suffer.
Meanwhile, food prices, which are up more than 11% from last year, continue to give off mixed signals. While "Food at home" has decelerated most of the year (still up 0.6% from last month), "Food away from home" has been stubbornly high.
Inflation Will Write the Script for the 2023 Economy
For better or worse, inflation remains top of mind for both investors and economists. While the October CPI was a resounding victory in some ways, in others it offers reason to remain cautious. Going forward, services like shelter will be key to long-term, meaningful reductions in the country's price level. While in the short term it is positive that inflation fell despite the state of rental rates, it also presents an obstacle to future inflation reduction.
From the information currently available, an additional rate hike to cap off 2022 still seems like a virtual certainty, even given last week's CPI. What's unclear is whether the Fed will opt for a gargantuan, 75-basis-point rate hike or instead go with a more mild, 25- or 50-bps hike.
On the date of publication, Shrey Dua did not hold (either directly or indirectly) any positions in the securities mentioned in this article. The opinions expressed in this article are those of the writer, subject to the InvestorPlace.com Publishing Guidelines.