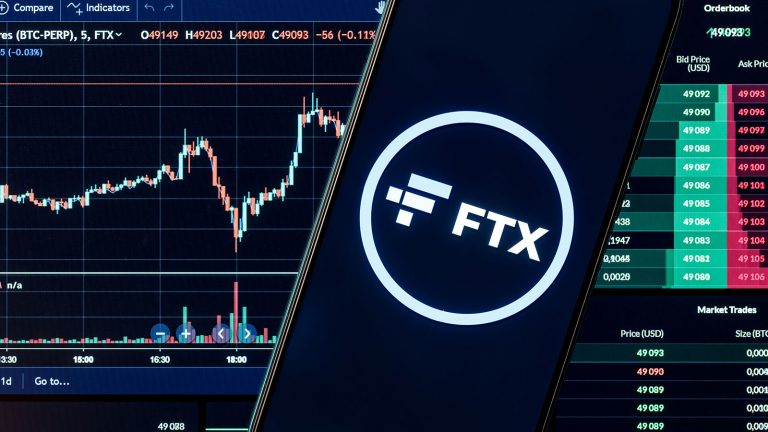 Source: Sergei Elagin / Shutterstock
The holiday season is, for many, a time of rest and relaxation. Many are using the time to reflect on the past year and ready themselves for the year ahead. The scene for Sam Bankman-Fried couldn't be more different. The FTX founder is facing well over a century in jail time. He's also seeing his personal wealth shrink from billions of dollars to almost nothing. And to top it all off, former peer and Alameda Research CEO Caroline Ellison is spilling the beans about Bankman-Fried's leading role in the scheme.
Ellison has come into the public eye in the last several months as a direct result of FTX's collapse. The bank run which catalyzed the company's implosion came as a direct result of a report revealing that FTX and Alameda had be secretly co-mingling FTX customer funds.
The report was just the edge of the rabbit hole, however. The news initially jumped out at investors as a precarious balance sheet mismanaged by inexperienced executives. Now, it's turning out to be a wholly corrupt power structure that relied on remaining undiscovered.
Caroline Ellison, as CEO of FTX sibling Alameda Research, had participated in these activities herself. And when Sam Bankman-Fried began his now-infamous slate of interviews, he chose to heap the blame on the likes of Ellison and other relevant executives. Surely, being targeted by Bankman-Fried pushed Ellison, alongside FTX co-founder Gary Wang, to take plea deals. Under these deals, Ellison and Wang would escape their hefty potential sentences in exchange for their cooperation in the Bankman-Fried investigation.
On Dec. 19, Ellison gave her first testimony as a part of this plea deal. And in recent days, this originally sealed testimony has become public. So, what did she say?
Caroline Ellison Reveals Scope of FTX Mismanagement
In the weeks since the FTX collapse, Caroline Ellison has become a person of serious interest to investors. At just 28 years old, Ellison helmed one of crypto's largest and most reputable private equity funds. FTX's collapse, and Ellison's role in it, immediately led to retrospective scrutiny over whether she was equipped for the role. But now, as federal prosecutors descend on Bankman-Fried, she's becoming an invaluable asset.
Last week, Caroline Ellison gave her first testimony regarding FTX and Alameda at her plea hearing. Since the hearing, Sam Bankman-Fried has made his $250 million bail, and Ellison's testimony has been unsealed.
Ellison didn't seem to sugarcoat her role. Upon pleading guilty, she told the court she "knew that it was wrong" that Alameda was using customer funds without their knowledge. Ellison confessed she knew her actions as CEO were illegal. But, she had lots of choice words relating to Sam Bankman-Fried's orchestration of the scheme.
Ellison told the court it was specifically Bankman-Fried who pressured her and others into loaning billions of dollars to FTX. This includes a $1 billion loan given to Bankman-Fried himself by Alameda.
Atop the loans, Bankman-Fried has also allegedly pushed other executives to fudge bookkeeping numbers. According to Ellison's testimony, she and others "prepared certain quarterly balance sheets that concealed the extent of Alameda's borrowing and the billions of dollars in loans that Alameda had made to FTX executives and to related parties." Gary Wang, in his own hearing, said Bankman-Fried directed him to alter FTX code to give Alameda special privileges. Of course, this change was made unbeknownst to investors and clients.
This has been just the first of many hearings for this pair of executives. And already, the two are heaving particularly heavy claims at a Sam Bankman-Fried, who seems to be in deeper trouble than ever.
On the date of publication, Brenden Rearick did not have (either directly or indirectly) any positions in the securities mentioned in this article. The opinions expressed in this article are those of the writer, subject to the InvestorPlace.com Publishing Guidelines.
Brenden Rearick is a Financial News Writer for InvestorPlace's Today's Market team. He mainly covers digital assets and tech stocks, with a focus on crypto regulation and DeFi.