With the best stocks to buy this week, investors should avoid overthinking the profile and focus on the Federal Reserve. Recently, the central bank raised the benchmark interest rate by 75 basis points again, presenting concerns about economic stability. After all, if the Fed goes too aggressively with its monetary tightening, a recession might materialize.
To be fair, inflation still represents an immediate-term concern. As well, Russia's energy blackmail may keep hydrocarbon supplies low, thus exacerbating higher costs of living. Nevertheless, several experts have chimed in about the concerns of deflation (i.e. recession). It's not a comfortable subject to broach but investors may need to get defensive regarding the best stocks to buy this week.
For instance, Morningstar projects a "large deflation in prices for durable goods, food, and energy over 2023-26." Put another way, the Fed may succeed a bit too much regarding its hawkish policies. Therefore, the best stocks to buy should have some answers for a deflationary environment, as well as for persistent inflation.
Best Stocks to Buy This Week: Progressive (PGR)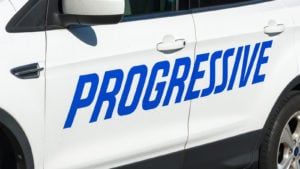 Source: Shutterstock
Founded in 1937, Progressive (NYSE:PGR) hails from Mayfield, Ohio. An American insurance firm, Progressive represents the third largest insurance carrier and the number one commercial auto insurer. Presently, the company commands a market capitalization of just over $74 billion. On a year-to-date basis, PGR gained a very healthy 24%. For comparison's sake, the S&P 500 is down 21.4% during the same period.
Although traditionally a boring market idea, PGR makes plenty of sense in the present ambiguous environment. That's because of inelastic demand, where demand remains relatively stable irrespective of pricing fluctuations. Cynically speaking, most states in the Union require basic auto insurance coverage. So, Progressive's industry enjoys a captive audience. Levered with Progressive's brand appeal, it can make a killing in the space.
To be fair, Gurufocus labels PGR as "modestly overvalued." Mathematically, I agree. However, we're in a paradigm of consumers about to batten down the hatches. The only sectors that may still enjoy growth and/or stability are those that feature inelastic demand. Therefore, PGR represents one of the best stocks to buy this week.
Aflac (AFL)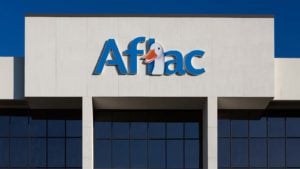 Source: Ken Wolter / Shutterstock.com
Founded in November 1955, Aflac (NYSE:AFL) is based in Columbus, Georgia. Another insurance player, Aflac specializes in supplemental insurance; indeed, it's the largest of its kind in the U.S. At the moment, Aflac carries a market capitalization of $42.45 billion. Since the beginning of the year, AFL gained 15.3% of equity value, an unsurprising rise. Also, in the trailing month, shares moved up over 16%.
As a rule of thumb, insurance-related securities tend to share a direct relationship with benchmark interest rates. In other words, as rates rise, so too do insurance stocks. You see it with Aflac and you also saw it with Progressive. Again, in the spirit of not overthinking fundamental narratives, investors should consider adding AFL to their list of best stocks to buy this week.
An additional argument on the fundamental side centers on the new normal. Having survived the Covid-19 pandemic, plenty of folks are likely feeling the in-case-stuff-happens sentiment. It wouldn't surprise me in the least that supplemental insurance providers see increased demand from concerned households. Therefore, AFL is a relatively easy idea among the best stocks to buy this week.
Best Stocks to Buy This Week: Home Depot (HD)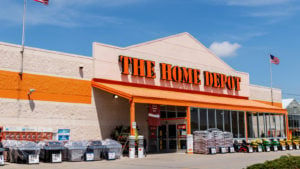 Source: Jonathan Weiss / Shutterstock.com
Founded in 1978, Home Depot (NYSE:HD) hails from Atlanta, Georgia. A powerhouse in the home improvement retail sector, Home Depot represents both a business and a semi-infrastructural firm. When circumstances go awry — whether we're talking about natural disasters or pandemics — Home Depot stays open when possible, providing reassurances for the local communities it serves.
Presently, the company carries a market cap of just under $291 billion. Unfortunately for HD stock, it's incurred its own storm. Since the January opener, shares stumbled 30.5%. Nevertheless, in an economic ecosystem where inflation or deflation represent real possibilities, Home Depot facilitates some confidence for investors.
Primarily, events requiring home repair don't time themselves according to market or economic dynamics. Since stuff happens no matter what, Home Depot benefits from baseline-level inelastic demand.
On a financial level, Home Depot enjoys above-sector-average metrics for sales growth and profitability (operating and net) margins. Therefore, HD is a decently priced investment among the best stocks to buy this week.
Costco (COST)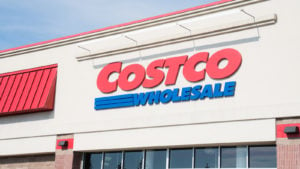 Source: ilzesgimene / Shutterstock.com
Founded in 1976, Costco (NASDAQ:COST) is headquartered in Issaquah, Washington. Operating a chain of membership-only big-box retail stores, Costco represents a pop-cultural phenomenon as much as it does a viable business. At the moment, Costco features a market cap of $215.3 billion. Since the start of the year, COST slipped a little over 14%. However, in the trailing month, it's up nearly 4%.
Fundamentally, Costco benefits from a wealthier-than-average shopper (or member) base. While you can look up the specifics of demographics yourself, the biggest takeaway is that the average Costco member is relatively young and earns $125,000 a year. This compares very favorably to other competing big-box retailers that I won't name here (but you can probably guess).
Stated differently, Costco enjoys resilience against recessionary pressures. It's also built for inflationary pressures because of its bulk-purchasing incentivization. Thus, COST easily ranks among the best stocks to buy this week.
Best Stocks to Buy This Week: Sempra Energy (SRE)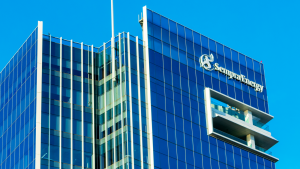 Source: Michael Vi / Shutterstock.com
Headquartered in San Diego, California, Sempra Energy (NYSE:SRE) was founded in 1998. An energy infrastructure firm, Sempra represents one of the largest utility holding companies in the U.S. with roughly 40 million consumers. Currently, the utility firm carries a market cap of $48.7 billion. Since the beginning of this year, SRE gained over 17% of its equity value.
Moreover, in the trailing month, SRE has been on the move, gaining over 5% in the market. Fundamentally, Sempra also enjoys inelastic demand. Basically, no matter what happens in the economy, households must consume a baseline level of critical resources. So, with inflation, deflation, or something in the middle, the lights need to stay on, thus making SRE one of the best stocks to buy this week.
Another factor that's in Sempra's favor is of course the geographical coverage. California represents the U.S. economy's powerhouse, generating a $3.4 trillion GDP. Per the Los Angeles Times, the Golden State might also become the world's fourth-largest economy. Cynically, then, Sempra is here to stay, making it a relatively strong choice for the best stocks to buy this week.
Kinder Morgan (KMI)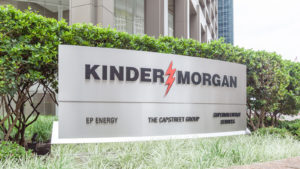 Source: JHVEPhoto/Shutterstock.com
Based in Houston, Texas, Kinder Morgan (NYSE:KMI) is a midstream specialist in the hydrocarbon industry, meaning that it focuses on infrastructural initiatives such as transportation and storage. Specifically, Kinder Morgan owns an interest in or operates approximately 83,000 miles of pipelines and 143 terminals.
Currently, the company commands a market cap of $40.8 billion. Since the January opener, KMI gained slightly over 11% of its equity value. One of the more attractive elements of Kinder Morgan centers on its dividend. Presently, the company offers a forward yield of 6%, conspicuously higher than the sector average of 4.24%. However, its payout ratio stands at 95%, representing viability concerns if mobility fails to normalize in the years ahead.
Still, KMI represents one of the best stocks to buy this week since midstream players are practically permanently relevant. Whether inflation or deflation dominates the economic narrative, the nation will always need energy transportation and storage solutions.
Best Stocks to Buy This Week: JPMorgan Chase (JPM)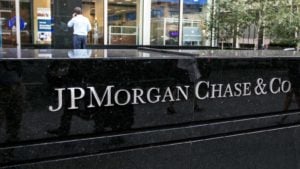 Source: Roman Tiraspolsky / Shutterstock.com
Headquartered in New York City, JPMorgan Chase (NYSE:JPM) is a multinational investment bank and financial services powerhouse. As of this year, JPM is the largest bank in the U.S., the world's largest bank by market cap, and the fifth largest bank in the world in terms of total assets. Presently, it commands a market cap of nearly $384 billion. Shares lost more than 19% YTD.
Generally speaking, higher rates bolster financial institutions due to the profitability angle. In other words, as the benchmark rate rises, banks may benefit from this elevation through their lending practices. Unfortunately, investors must consider the three-dimensional perspective. Higher rates also lead to reduced growth incentivization, which then risks introducing recessionary forces.
No, the primary reason that speculators may want to consider JPM as one of the best stocks to buy this week centers on its wealth management unit. With so many vagaries in the global economy, investors need expert guidance for their portfolios. So, it's a chance for JPMorgan analysts and financial advisors to really step up to the plate.
On the date of publication, Josh Enomoto did not have (either directly or indirectly) any positions in the securities mentioned in this article. The opinions expressed in this article are those of the writer, subject to the InvestorPlace.com Publishing Guidelines.
A former senior business analyst for Sony Electronics, Josh Enomoto has helped broker major contracts with Fortune Global 500 companies. Over the past several years, he has delivered unique, critical insights for the investment markets, as well as various other industries including legal, construction management, and healthcare.