Many investors have stayed away from purchasing shares of the nation's largest music publishers since the Covid-19 pandemic began. This includes Sony Corporation (NYSE:SONY). The price of SONY stock has risen a whopping 259% over the last five years. Yet no one seems to notice.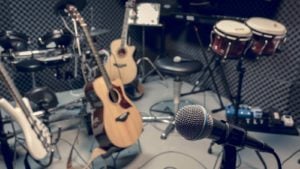 Source: Shutterstock
Much of this investor apprehension likely stems from a string of regulatory defeats. But despite their lack of success in Washington, the largest music stocks are in good shape and will continue to do just fine. Thus, it's time to tune up your portfolio with some music publishers.
Legal Battles in the Music Industry
Certainly, the pandemic put a damper on music stocks. Investors feared that Washington would refuse to grant music publishers and venues an array of bailout requests. This would sink the industry beyond repair. Yet music stocks continued to hum.
Other regulatory concerns have dissipated as well. In the final days of former President Donald Trump's term, the Department of Justice decided not to alter or eliminate the federal anti-trust agreements.
These prevented ASCAP and BMI — two organizations that run music publishing — from exercising market power to unilaterally raise prices on licenses. This meant they would not be able to significantly hike costs for radio stations.
Both Trump's and former President Barack Obama's administrations rejected similar attempts by larger music publishers to circumvent antitrust laws and raise prices on individual streaming services.
Last year, the D.C. Circuit Court of Appeals also vacated a previous ruling allowing massive increases in mechanical royalties paid to music publishers by streaming services. Some investors perceived these failures as a harbinger of tough times for music stocks.
New Data Alleviates Concerns
Traders' concerns over the publishers' ineffective political agenda may have seemed to make sense. But new data from the National Music Publishers' Association (NMPA) suggests these fears were without reason. Music stocks have remained financially unaffected by these regulatory failures. They never needed help from Washington to remain viable investment options in the first place.
In 2020, many other entertainment industry stocks struggled. Individual artists and songwriters witnessed real hardships. Yet the publishing industry increased its revenue by 9.6% year-over-year (YOY).
The growth in revenues was led by the largest music publishing corporations. These numbers align with company-specific earnings reports that have gone public in recent weeks. Here are the reports from four of the biggest music publishers:
The Bullish Case Ahead for Music Stocks
Larger music publishers should continue doing well for the same reasons they weathered the pandemic. High radio and streaming returns along with new, creative revenue streams will continue to contribute to the bottom line.
Music publishers benefited particularly from the streaming industry's 13.4% YOY gains from 2019 to 2020. 2021 data is already indicating this boom isn't going away any time soon.
In the first half of 2021, the average number of on-demand music streaming paid subscriptions hit 82 million. This was a 13% increase from the first six months of 2020.
The effect of the increase is very apparent in the publisher's recent earnings reports. Revenue for Sony from digital streaming services grew 43% in Q2 2021 compared to Q2 2020.  UMG realized a 14% increase in subscription and streaming revenue compared to its Q3 2020.
The largest publishers are taking their pandemic windfalls and reinvesting them in future earnings. BMG recently bought Tina Turner's catalog for $300 million. Universal Music Group nabbed Bob Dylan's for a price estimated to be in excess of that figure.
This effectively cuts out the songwriting middlemen. It sets up for a higher take of the revenue in the years to come. No more splitting future royalties with the songwriter. Publishers can take 100% of a song's future earnings by purchasing the songwriter's catalog outright.
These investments make considerable financial sense. It will make future earnings reports even prettier, especially given the influx of cash into the music publishing sector.
What Wall Street Says About Music Stocks
The Street has taken notice and is getting into the game. KKR has purchased a catalog of works by Ryan Tedder, the lead singer of OneRepublic.
Blackstone has made investments into catalogs that include songs by The Lumineers and Snoop Dogg. They also acquired SESAC, a performance rights collective that secures and distributes performance royalties.
The largest publishers are also expected to reap huge dividends from China. Growth in digital music revenues in the country is exploding. It is expected to jump from just 4.7 billion Yuan in 2017 to 20.6 billion Yuan by the end of 2021.
The major takeaway is that the music publishing industry has prospered throughout the pandemic. It looks poised for continual gains into the future.
The spate of recent policy failures by publishers in Washington have little bearing on the outlook of the industry. Investors should buy music stocks with confidence.
On the date of publication, Tim Biggam did not have (either directly or indirectly) any positions in the securities mentioned in this article. The opinions expressed in this article are those of the writer, subject to the InvestorPlace.com Publishing Guidelines.
Tim spent 13 years as Chief Options Strategist at Man Securities in Chicago, 4 years as Lead Options Strategist at ThinkorSwim and 3 years as a Market Maker for First Options in Chicago. Tim has appeared on PBS and the Nightly Business report, while maintaining weekly appearance on Bloomberg TV and CBOE-TV to discuss everything from volatility to LEAPs. Tim has also been invited for reoccurring appearances on CNBC's Volatility Playbook.