The stock market is always full of news that fuels its movement, offering excitement, fear, and drama. GlobalFoundries Inc. (NASDAQ:GFS) went public via an initial public offering (IPO) in late October this year. This global semiconductor manufacturer has already announced a key catalyst with its partnership with Ford (NYSE:F). GFS stock is poised to move higher.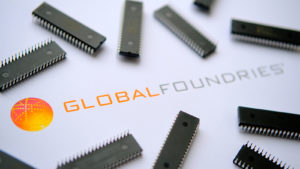 Source: Ascannio / Shutterstock.com
Due to the pandemic and consumer preferences towards technological goods such as PCs, tablets and mobile phones, there has been a global chip shortage.
The rise of new trends such as work-at-home amid lockdowns and attempts from governments to win the fight against Covid-19 has also contributed to this shortage.
Moreover, the mismatch in equilibrium between supply and demand for chips used in industries such as electronics and automotive has created a competitive advantage for GlobalFoundries. Is it indeed the case? The answer is twofold.
Global Chip Shortage Is to Continue Until Mid-2022
Gartner, Inc. (NYSE:IT) a research and advisory company, in a press release mentioned that, "The worldwide semiconductor shortage will persist through 2021, and is expected to recover to normal levels by the second quarter of 2022."
What created this global chip shortage may be attributed to poor planning from all types of businesses. Mario Morales, program vice president of the semiconductor group at International Data Corporation (IDC) said that, "When you're shocked by the pandemic it's hard to operate without business continuity planning."
Trade sanctions imposed from the U.S. to China and the 5G rollout of mobile phones are other reasons that amplified this global chip shortage. In this environment, GlobalFoundries is investing heavily to put an end to the global chip shortage — by increasing productivity and forming strategic alliances.
Deal with Ford to Boost Stock Price
GlobalFoundries announced on Nov. 18, 2021 that, it has formed  an important partnership with Ford. It mentioned that, the partnership is "a strategic collaboration to advance semiconductor manufacturing and technology development within the United States, aiming to boost chip supplies for Ford and the U.S. automotive industry."
It also stated that, "The companies have signed a non-binding agreement that opens the door for GF to create further semiconductor supply for Ford's current vehicle lineup and joint research and development to address the growing demand for feature-rich chips to support the automotive industry."
This is positive news and will probably add a long-term cash infusion to GlobalFoundries — helping its profitability. At the same time, this global semiconductor manufacturer has announced that it is expanding its global manufacturing capacity  in an effort to "reduce greenhouse gas emissions by 25% from 2020 to 2030."
This journey to the "Zero Carbon initiative" means increased capital expenditures, a trend that we will have to monitor closely in the next quarters and years. There are already announcements of important capital expenditures, such as $1 billion for its manufacturing facility in New York, and the construction of a new fab in Singapore.
These investments are made, according to the company, as "GF is meeting the challenge of the global semiconductor shortage by accelerating our investments around the world."
A closer look at its Form F-1 filing, though, raises some concerns.
Profitability Is Absent, Revenue Has Declined
GlobalFoundries has reported revenue of $6.19 billion, $5.81 billion, and $4.85 billion for 2018, 2019, and 2020 respectively. This shows a decline in revenue over the past three consecutive years. I am concerned that there is also a loss from operations and a net loss for these three years. The operating expenses have declined, though which is a positive.
However, with the increased capital expenditures with a cash and cash equivalents of $908.077 million reported on its balance sheet — these plans to expand global manufacturing capacity seem too risky. With its recent IPO,  GlobalFoundries sold 55 million shares at $47 per share — raising $2.6 billion in cash. This cash injection and the recent deal with Ford certainly can fund the plans to invest in plants.
Still, the main risk that emerges in this scenario is if GlobalFoundries  produces excess capacity and a large inventory of chips within 2022. With this non-binding agreement with Ford,  GlobalFoundries has the ability to sell its global chip production to other companies and industries rather than just the automotive industry.
Bottom Line
Now that the game has changed and GlobalFoundries is a public company, the expectations are too high to deliver solid financial results. Investors should wait to evaluate what this chipmaker will report in revenue growth, profitability margins, and free cash flow over the next quarters before they buy.
On the date of publication, Stavros Georgiadis, CFA  did not have (either directly or indirectly) any positions in the securities mentioned in this article. The opinions expressed in this article are those of the writer, subject to the InvestorPlace.com Publishing Guidelines.
Stavros Georgiadis is a CFA charter holder, an Equity Research Analyst, and an Economist. He focuses on U.S. stocks and has his own stock market blog at thestockmarketontheinternet.com/. He has written in the past various articles for other publications and can be reached on Twitter and on LinkedIn.