If you've listened to the song "Stay," you'll know that artist Kid LAROI understands the pain of a breakup (even at the age of 18). But for Ford (NYSE:F) and F stock investors, there's no need for heartache. This is just a perfectly natural time to move on. Recently, Ford and Rivian (NASDAQ:RIVN) announced that they will no longer jointly develop electric vehicles (EVs).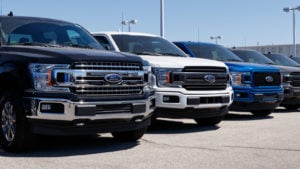 Source: Jonathan Weiss / Shutterstock.com
This news shouldn't come as a surprise. Still, investors may be wondering what's behind Ford's strategy — and what the breakup means for F stock.
Here's a closer look at the Ford-Rivian situation as it stands today. 
F Stock: What a Difference a Year Makes 
To start, let's recap the history between these two names. Ford and Rivian first got together back in April 2019, when Ford invested $500 million in the EV startup. The companies announced they would jointly develop an electric vehicle. Ford's investment came just two months after Amazon (NASDAQ:AMZN) also led a $700 million investment in Rivian.
At the time, investors were nonplussed with the Rivian relationship — or Ford's EV strategy. The company said it would use Rivian's chassis to build an all-electric SUV for its luxury Lincoln brand (those plans were scrapped in April of last year). But with F stock trading for just around $10 at the start of 2021, investors weren't convinced of any real transformation of the carmaker's business.
As one Redditor aptly put it: "You seen a Ford dealer lot lately. Empty as [f—]"
For Kid LAROI in the No. 2 Billboard single "Stay," breakups are sometimes about an unwillingness to change ("I told you I'd change even when I knew I never could"). But Ford has thus far made good on its EV promises.
In October 2020, Jim Farley became CEO, inheriting both the Rivian investment and jointly developed vehicle plans from predecessor Jim Hackett. In July, Ford purchased $415 million in convertible notes from Rivian, which will become common stock in June 2022. Additionally, the company announced a $11.4 billion investment plan in September.
Ford is delivering three particularly notable EVs in 2022: the F-150 Lightning (Ford's first all-electric pick-up truck), the Ford Maverick (a full hybrid pick-up truck) and the E-Transit. Notably, the E-Transit — based on the world's top-selling cargo van — is the company's first attempt at an all-electric transport solution for the commercial market. 
Better Alone 
While LAROI tells his love interest, "Ain't no way that I can leave you stranded," Ford has clearly moved on with its EV strategy. As such, it's not surprising Ford CEO Jim Farley referenced the automaker's "growing confidence" to "win in the electric space" as the justification for ending the collaboration.
Farley is right. Ford is doing much better in the EV game than it was when the company first invested in Rivian in 2019. What's more, F stock is up about 128% year-to-date (YTD), now trading for around $20. Ford plans to sell 600,000 EVs annually by 2023.
First, take a look at the Mustang Mach-E, a sport utility EV which has been a breakout success. Ford has sold about 22,000 Mach-Es so far this year, as of the October sales report. Plus, the car — named Car and Driver's EV of the Year in July — has drawn favorable comparisons to competing models from Tesla (NASDAQ:TSLA). 
Secondly, though, Ford's all-electric F-150 Lightning pick-up — which competes with the Rivian R1T — is the car-equivalent of a Billboard smash. Ford plans to start selling the truck in 2022. Reservations totaled 160,000 as of the October sales report, increasing at a rate of about 10,000 monthly.
F Stock: A Transformation Story with Continued Upside 
With Rivian now worth over $100 billion and having just started production, it's clear that, for now, investors seem to be valuing EV startups at a significant premium to legacy carmakers. However, while Kid LAROI laments "The time that I wasted here" in his song, I wouldn't count Ford out of the EV market.
With a well-capitalized balance sheet, manufacturing prowess and market focus, there is ample upside to F stock. And if the company's own transformation isn't already enough, Ford also has its hand in Rivan's future success. The company owns roughly 100 million shares of RIVN stock — or a 12% stake — worth around $13 billion. 
Your comments and feedback are always welcome. Let's continue the discussion. Email me at jmakris@investorplace.com.
On the date of publication, Joanna Makris did not have (either directly or indirectly) any positions in the securities mentioned in this article.
Click here to see her Behind the Wall series, where she gets up close to CEOs, industry experts and money managers and gets answers that are normally heard by institutional investors.
Joanna Makris is a Market Analyst at InvestorPlace.com. A strategic thinker and fundamental public equity investor, Joanna leverages over 20 years of experience on Wall Street covering various segments of the Technology, Media, and Telecom sectors at several global investment banks, including Mizuho Securities and Canaccord Genuity.