Shares of iGaming and online sports betting giant DraftKings (NASDAQ:DKNG) have taken a hammering this month. Its third-quarter results missed consensus estimates on both lines, which is why DKNG stock has dipped.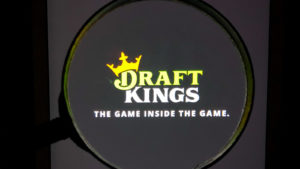 Source: Lori Butcher/Shutterstock.com
Nevertheless, the results were still incredible and showed the company's ability to expand and increase its total addressable market rapidly. If anything, the post-earnings dip creates an excellent buying opportunity in DKNG stock.
DraftKings is one of the juggernauts in the online sports betting (OSB) and iGaming businesses. Moreover, research suggests that the sports betting market can grow by over 10% through 2028. Hence, the company has a massive growth runway ahead, especially if it can ride the legalization tailwinds effectively.
DKNG stock trades at roughly 11.5 times forward sales which may seem too high to most investors. However, with its stellar financials and solid outlook, it will soon grow into its valuation.
Third Quarter Earnings Snapshot
DraftKings posted $213 million in revenue for the third quarter, representing a 60% improvement from the prior year. Though it fell within the guidance range, it missed analyst estimates by $25 million.
The management explained that due to "lower-than-expected hold primarily due to NFL game outcomes, revenue would've been $40 million higher than our guidance." Moreover, incremental promotional investments in new states also weighed down results.
DraftKings has been performing incredibly well of late and posted revenue beats in the past five consecutive quarters, before its third-quarter results. Moreover, the company has been transparent and constructive about its subpar third-quarter performance.
Furthermore, DraftKing's management states that such negative variances can have an ongoing impact and affect the company's monthly and quarterly results.  In the first couple of quarters, it reported favorable variances.
Moreover, the company continues to make strides in the iGaming and OSB segments. Its share in the OSB market rose from 31% July and August to 33% in September. On top of that, its iGaming revenues share also improved from 15% to 17% in July/August to September. Despite the continued growth, the company's footprint is still relatively small. With more legalization on the horizon, I expect DraftKings to continue delivering on its top and bottom lines for the foreseeable future.
Expanding Its Footprint
DraftKings added multiple new states, including Wyoming, Arizona, and Connecticut, expanding its OSB segment. Before its hugely successful New York launch, the company's OSB business was live in 15 states. Additionally, it was also operational in five states for iGaming. The company's OSB segment now encompasses 16 states in total, compared to just nine states last year.
Furthermore, DraftKings has gotten more efficient in introducing its service in new states. For instance, it took the company 17 days to acquire 100,000 new customers in its Arizona launch. On the flip side, it took it 170 days to reach the same milestone in New Jersey. DraftKings has attributed this success to its effective marketing and data-driven approach to customer acquisition.
Nevertheless, DraftKings's EBITDA losses are a major concern for investors. After posting encouraging results in the past three quarters, the company's third-quarter EBITDA margin tanked to a negative 188%.  Hence, the company's path to profitability seems befuddled again.  However, in the long run, with sufficient scale, the company can achieve profitability.
Bottom Line 
DraftKings had a slightly disappointing third-quarter which prompted a sell-off of its stock. However, the management's arguments regarding the results are well-taken and suggest that the hiccups during the quarter are nothing to worry about. Overall, the company has performed exceedingly well again and has added multiple new states to its kitty. Hence, investors should have a positive long-term view of DKNG stock.
On the date of publication, Muslim Farooque did not have (either directly or indirectly) any positions in the securities mentioned in this article. The opinions expressed in this article are those of the writer, subject to the InvestorPlace.com Publishing Guidelines
Muslim Farooque is a keen investor and an optimist at heart. A life-long gamer and tech enthusiast, he has a particular affinity for analyzing technology stocks. Muslim holds a bachelor's of science degree in applied accounting from Oxford Brookes University.