If you bought shares of Rivian Automotive (NASDAQ:RIVN) at or near its peak in mid-November, it's been a bad couple of weeks for you. RIVN stock is 34% off its high of $179.47, made days after the electric vehicle maker went public. And, unfortunately, I don't see RIVN stock making a comeback any time soon.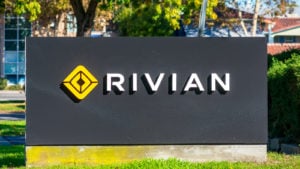 Source: Michael Vi / Shutterstock
Rivian's mammoth initial public offering got a lot of publicity. The company's market cap overtook General Motors (NYSE:GM) and Ford (NYSE:F) as shares shot up 130% in a matter of days. But RIVN stock was unable to hold those gains and it's been mostly downhill since.
Now that the initial excitement has faded, what do we have left?
It's going to be a while before Rivian starts seeing significant revenue, so the stock price is already artificially inflated. There have been reports of production delays, and I'm not sold on the idea that there will be overwhelming demand for Rivian's sleek line of electric vehicle pickups over the long term.
So, while I'm impressed as heck over Rivian's launch – and its connection to Amazon (NASDAQ:AMZN) – I'm going to sit this one out.
A Closer Look at Rivian
Irvine, Calif.-based Rivian made its debut on Nov. 10, setting an IPO price of $78, which gave the company a valuation of $66.5 billion. Rivian raised an estimated $11.9 billion in what became the largest IPO for a U.S. company since Facebook, now known as Meta Platforms (NYSE:FB), went public in 2012.
Part of the reason Rivian generated so much investor interest was its deal with Amazon. The online retail juggernaut has a 20% stake in the company and has already ordered 100,000 Rivian electric delivery vans for its fleet. Ford is also among Rivian's major backers, owning about 12%.
Rivian's most notable product will be its RT1 pickup truck. With a starting cost of $67,500, the RT1 has an estimated range of 314 miles. Rivian says it can tow up to 11,000 pounds and accelerate from zero to 60 miles per hour in three seconds. Rivian also offers the R1S SUV, which has a range of  316 miles and starts at $70,000.
Perhaps the most unique thing about Rivian is its so-called skateboard technology. As Motley Fool contributor Will Ebiefung states: "The company relies on a modular chassis design called the 'skateboard,' which houses the battery and other components in a single unit that can be adapted to its entire lineup and sold to other automakers."
The skateboard chassis will allow Rivian to scale its operations faster because it simplifies the supply chain.
Rivian Runs Into Production Issues
Another reason investors were so excited about Rivian was the surge in preorders the company reported ahead of its IPO. As of Oct. 31, the company had a backlog of 55,400 pre-orders. At that time, it had delivered 156 of its pickup trucks and said it was on track to ship 1,000 vehicles by the end of the year.
The company's factory in Illinois was said to be able to produce as many as 150,000 vehicles per year, so capacity didn't seem to be a problem.
However, according to several media reports, Rivian has been alerting customers that the R1S SUV will be delayed, perhaps by several months. Instead of receiving their vehicles in January, Rivian is telling customers that the earliest deliveries will be in May or June.
I'm not surprised by the production issues. It's not uncommon as a company ramps up. Tesla (NASDAQ:TSLA) is a perfect example and look at it now.
But it takes time to overcome these kinds of problems. If you bought RIVN stock hoping for a quick return, you're likely out of luck.
The Bottom Line on RIVN Stock
To be honest, I'm not sold on the idea that there's a massive market for EV pickups, which are often used for work purposes.
Let's say you want an electric truck to use on your job. Are you going to drop $70,000 on an electric Rivian or buy a Ford F-150 Lightning for less than $40,000? GM's electric Chevy Silverado is also likely to be priced well below $70,000. A smart business owner would choose the Ford or GM product, which are expected to launch in 2022-2023, and invest the rest of the money in their business.
RIVN stock remains overvalued even after its pullback and is likely to continue to fall for the foreseeable future. If you are looking for a short-term investment, it's best to seek profits elsewhere.
On the date of publication, Patrick Sanders was long TSLA stock. The opinions expressed in this article are those of the writer, subject to the InvestorPlace.com Publishing Guidelines.
Patrick Sanders is a freelance writer and editor in Maryland, and from 2015 to 2019 was head of the investment advice section at U.S. News & World Report. Follow him on Twitter at @1patricksanders.