A WSJ article dings oil prices and then is proved wrong … China lockdowns are getting worse … Louis Navellier remains bullish on top-tier energy stocks … the volatility might not be over yet
There's a bit of drama playing out in the oil markets.
Yesterday, global oil prices tanked in the wake of an article from The Wall Street Journal suggesting that OPEC+ is discussing boosting oil production.
From The Wall Street Journal:
Saudi Arabia and other OPEC oil producers are discussing an output increase, the group's delegates said, a move that could help heal a rift with the Biden administration and keep energy flowing amid new attempts to blunt Russia's oil industry over the Ukraine war.
A production increase of up to 500,000 barrels a day is now under discussion for OPEC+'s Dec. 4 meeting, delegates said. 
Such an increase would be a partial reversal of last month's OPEC+ decision to cut daily oil production by 2 million barrels.
In response to the news, the price of West Texas Intermediate Crude (WTIC) fell from over $80 a barrel to $75 a barrel.
Now, I began writing this Digest bullet last night. My original draft including the following commentary:
Frankly, this OPEC+ proposal is odd. In the face of cratering oil prices, you wouldn't expect OPEC+ to be discussing adding even more supply to the market, which would likely lower prices even further.
It turns out this proposal felt odd because it's not true.
From Bloomberg, this morning:
Saudi Arabia denied a report that it is discussing an oil-production increase for the OPEC+ meeting next month, and said it stands ready to make further cuts if needed…
"The current cut of 2 million barrels per day by OPEC+ continues until the end of 2023," Saudi Energy Minister Prince Abdulaziz bin Salman said in a statement via the Saudi Press Agency.
"If there is a need to take further measures by reducing production to balance supply and demand, we always remain ready to intervene."
The refutation of the WSJ claim is actually more intense than Bloomberg reveals.
Here's more from i24 News:
…The official Saudi Press Agency said on Monday night that the country's energy minister, Prince Abdulaziz bin Salman, "categorically denies" the report.
"It is well known, and no secret, that OPEC+ does not discuss any decisions ahead of its meetings," SPA quoted Prince Abdulaziz as saying.
So, not only is the WSJ's takeaway incorrect, OPEC+ isn't even having this conversation right now.
You have to wonder about the nature this WSJ error. It's not something like misattributing a quote or getting a date wrong. This was a complete reversal of OPEC+'s stated policy from just a month ago. A policy that, as we pointed out above, runs completely contradictory to OPEC+'s incentive structure. It just doesn't make sense.
Oil is rebounding on the news. WTIC trades at $82.20 as I write Tuesday at lunch.
We'll keep you updated if more comes out explaining the origin of the mistake.
Meanwhile, though this particular pressure on oil prices has abated, there's growing pressure coming from China
China is back in lockdown mode, and it's bad for oil.
From CNN Business:
China has locked down a major transportation hub in the south, as the country grapples with its largest nationwide Covid outbreak since April.
The lockdown also follows rising cases in Beijing, which reported the country's first Covid deaths in nearly six months.
In recent days, China had begun to ease its harsh Covid restrictions, which had crippled local and international businesses for months. But, experts are worried that Beijing's resolve to reopen the country may weaken now as cases rise once again.
Guangzhou is one of China's largest cities, with nearly 19 million residents. Based on its worst Covid breakout in three years, it just imposed a five-day lockdown in its Baiyun district, which houses 3.7 million people. This means no school, no public transportation, and an overall public advisement to stay home.
Across broader China, there are almost 28,000 new cases being reported today. This surge is elevating fears of additional lockdowns in other major Chinese cities, and how that could crush Chinese economic output.
From Ting Lu, chief China economist at Nomura:
China is seeing a record level of lockdowns. It's even a bit worse than during the [spring] Shanghai lockdown because so many cities are partially locked down.
Fears of additional Chinese lockdowns are their own anchor on oil prices – but if China intensifies actual lockdowns, the demand destruction could be significant. Nomura estimates that Covid restrictions have already impacted parts of China responsible for one-fifth of the nation's entire GDP.
Goldman Sachs just lowered its Q4 price estimate for Brent Crude by $10 in part due to the risk of further anti-virus measures in China.
Though China lockdowns could lead to lower prices, oil investors should consider using this as an opportunity to load up on top energy stocks
Regular Digest readers know that legendary investor Louis Navellier is incredibly bullish on quality oil and natural gas stocks over the coming quarters.
Here's Louis from his recent Accelerated Profits Market Update podcast:
What's interesting here is the big institutional investors are waking up to the energy companies' growth; they went from accounting for just 2% of the S&P 500 to about 6% now.
Personally, I think energy stocks will account for 30% of the S&P 500 in the next two years, which bodes extremely well for our big energy bet as the institutional buying pressure should remain persistent and relentless…
That's why I'm so bullish on energy.
In yesterday's Platinum Growth Club Market Update Podcast, Louis commented on the plunge in oil prices.
He pointed toward the Wall Street Journal article spooking investors, as well as very light trading volume on the day, saying "the market is in holiday mode. That means there's no volume."
As to the downward pressure on oil and top oil stocks, Louis was quick to assuage concerns – even before today's news that debunked the WSJ article:
Energy remains the place to be. I don't want anybody to worry about the price oscillations. Being an oil trader is a tough thing to do.
If you've been looking to put some money to work in energy as a longer-term investment, you're getting a reduced price today.
But be aware that there could be more weakness in front of energy before prices turn north again
To illustrate why, let's look at the SPDR Energy Select Sector ETF, XLE. It contains energy heavyweights including Exxon, Chevron, Schlumberger, and ConocoPhillips.
We include XLE's Relative Strength Indicator (RSI) in the pane below its market price.
As we've pointed out in past Digests, an RSI is a measure of a stock's relative strength or weakness. An RSI level that becomes too overbought (or oversold) eventually snaps-back toward its equilibrium level.
On the overbought side, the level of 70 is considered the line in the sand, with any levels above this signifying increasingly overbought conditions.
First, notice that XLE reached outbought conditions in recent weeks before prices began falling.

Source: StockCharts.com
But there's another clue for us in this RSI…
Traders often pay attention to divergences between a stock's RSI's direction and its price direction. When they contradict one another at extreme levels, a change in the stock-price could be soon to follow.
To illustrate, below, we zero in our time frame. Notice how in the last few weeks, XLE's RSI topped out and began falling, even while XLE's price was still rising.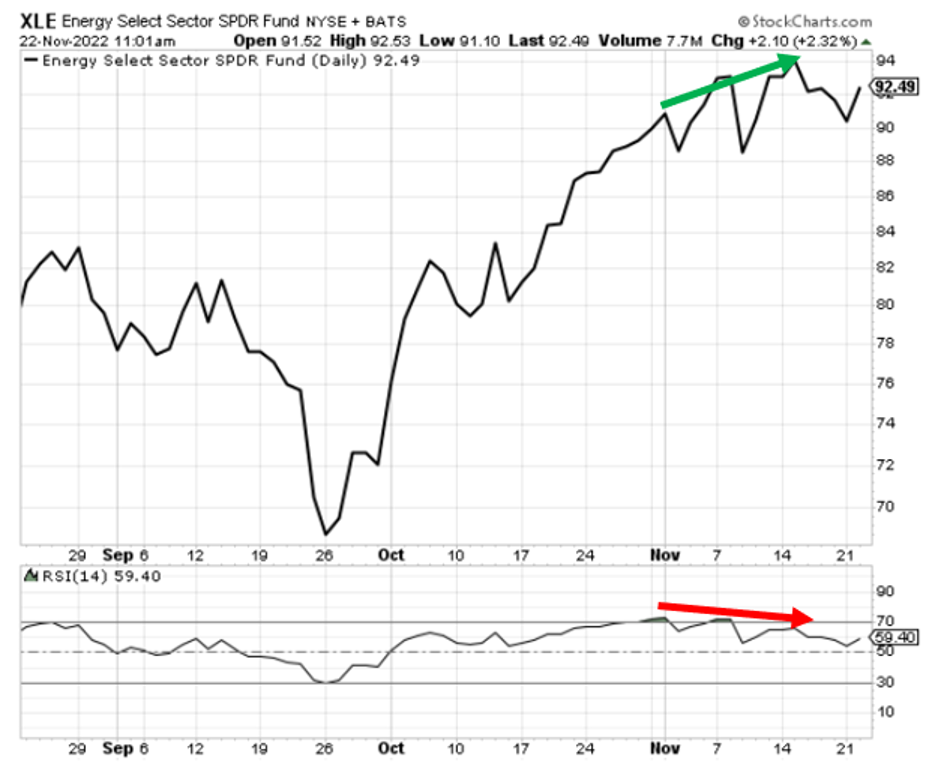 Source: StockCharts.com
This is a classic RSI/price divergence that suggests an upcoming change of direction in the price. And that's exactly what we got.
Now, as we stand today, XLE is rallying as oil prices climb in the wake of the debunked WSJ story. But that doesn't change the fundamental disconnect between RSI and price in recent weeks.
In other words, there could be more weakness to come before prices are ready to begin a new, sustained bullish climb.
But this is a shorter-term indicator – remember the difference between short-term weakness and long-term strength
On that note, we'll return to Louis' Market Update Podcast:
Don't worry about oscillating energy prices… When you have thin markets like we do, you can't overreact.
But demand is there and supply is tight.
As far as I can tell, natural gas demand is going to be up. Crude oil demand is going to be up in February as we approach the spring, and it will be fascinating to see how the [embargo] on Russia is going to affect everything.
To follow along with Louis' oil research and analysis in his Accelerated Profits service, and find out the specific energy stocks Louis recommends, click here.
Have a good evening,
Jeff Remsburg