Chicago-style restaurant chain Portillo's (NASDAQ:PTLO) is known for serving up hot dogs, sandwiches, burgers, French fries, milkshakes and more. Not long ago, the company went public and PTLO stock became available for trading.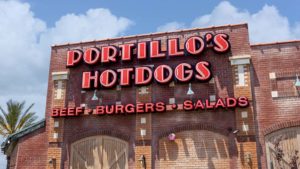 Source: TonelsonProductions / Shutterstock.com
Don't get the wrong idea, as this isn't a new company by any means. In fact, Portillo's was founded way back 1963 in a small trailer, which Dick Portillo called The Dog House.
Fast-forward to June 27, 2021, when Portillo's owned and operated 67  restaurants across nine states. This company is a growth story in progress, and as we'll see, Portillo's is also an impressive revenue generator.
Granted, the most recent fiscal results weren't perfect. Still, there are some positive data points on the menu and while Portillo's won't appeal to everyone, its does offer a unique brand experience.
A Closer Look at PTLO Stock
In mid-October, the Portillo's stock offering was expected to have a price range of $17 to $20.
Then, the initial public offering (IPO) actually took place on Oct. 21 after Portillo's decided to price it at $20 per share.
However, retail traders didn't likely get to buy the stock at that price, as the shares started trading at $26.10.
So, PTLO stock was already zooming higher on its first day of public trading.
The momentum then continued throughout October and November, as the Portillo's share price reached $57.72 on Nov. 17.
Who could have known that a small restaurant chain's stock could double in such a short period of time?
Most likely, it's a symptom of the IPO mania that has gripped the financial markets lately.
Notably, PTLO stock did pull back on Nov. 18 and 19 to the $45 area. This was evidently caused by an earnings release, which we will analyze momentarily.
Obsessed Fans
Before delving into the financial data, however, we should take a step back and consider what makes Portillo's unique in a competitive restaurant-chain market.
Interestingly, a Portillo's prospectus lists "An Iconic and Beloved Brand with Obsessed, Lifelong Fans" as one of the company's competitive strengths.
Would you consider the word "obsessed" to be compliment? It's an unusual choice of words, but the point is well-taken: Portillo's has loyal patrons.
The prospectus also emphasizes Portillo's "Values-Driven, People-Centered Culture." The main idea here, I'd say, is that the company wants to promote an image of a local, mom-and-pop type of dining experience.
Plus, there's an ambiance that harkens back to an earlier, simpler time in America's history:
"Our dining areas evoke nostalgia and local influences. No two Portillo's are alike. Each of our restaurants has its own themed décor ranging from a 1930's prohibition motif to a 1950's jukebox, to a 1960's hippie bus."
It's almost as if Portillo's wants its customers to forget, just for a little while, that Covid-19 ever happened.
Back to Reality
Portillo's patrons can, perhaps, escape from the modern world's problems temporarily.
The company, however, still has to generate revenues and profits in the here-and-now.
With that in mind, let's snap out of our nostalgia trip and see how Portillo's fared during 2021's third quarter.
For an appetizer, we'll observe that the company reported diluted earnings per share of 1 cent.
Admittedly, that's a miss compared to the 8 cents per share that Wall Street was expecting, as well as the 5 cents per share recorded in the year-earlier quarter.
On the other hand, Portillo's Q3 revenue of $138 million was pretty much in line with Wall Street's estimate of $138.05 million.
Even better, the company's total revenue increased year-over-year by 15.3% to $138 million, and Portillo's same-restaurant sales advanced by 6.8%.
The Bottom Line
What's great about Portillo's is its traditional charm. This is strongly appealing during these challenging times.
Yet, some traders might be deterred by the company's underwhelming third-quarter EPS result.
Nevertheless, there were bright spots in the recent fiscal report.
All in all, Portillo's is an old-school restaurant that successfully occupies a specific niche, and offers a growth story which some investors might find compelling.
On the date of publication, David Moadel did not have (either directly or indirectly) any positions in the securities mentioned in this article. The opinions expressed in this article are those of the writer, subject to the InvestorPlace.com Publishing Guidelines.