Netflix (NASDAQ:NFLX) shareholders have been a pretty happy bunch over the past 2 years. The pandemic triggered a surge in new subscribers. Its latest quarter was a blockbuster (no pun intended) that beat analysts expectations on virtually every metric. And now Squid Game has become the streamer's biggest ever series at launch. NFLX stock has posted a 112% return since it began recovering from a big slump that lasted through the summer and fall of 2019. And after a bumpy start to 2021, shares are up 26% so far this year.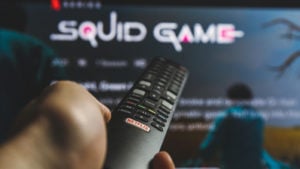 Source: Rokas Tenys / Shutterstock.com
All of that sounds pretty good, but is there still gas left in the tank? After all, slowing subscriber growth has been a concern for investors for years. Making the situation more challenging, trying to attract new subscribers has become more difficult with so many new streaming services going live over the past 2 years.
Hits like Squid Game help, but new programming is expensive. So the question is, with NFLX stock just off all-time highs, does it makes sense to add this streamer to your portfolio?
Let's have a look.
NFLX Stock and Its Killer Quarter
Before getting to the future, I want to quickly visit the recent past. On Oct. 19, Netflix was the first of the FANNG stocks to announce quarterly earnings. The company's third quarter erased any concern about a post-pandemic slump.
Revenue of $7.5 billion was up 16% year-over-year. The company also added 4.4 million net new paid subscribers (double the 2.2 million it added in the year ago quarter), and it says it expects to add an additional 8.5 million in the fourth quarter. While analysts were looking for earnings-per-sahre of $2.56, Netflix delivered earnings of $3.19 per share. That's up 83% YoY. 
The company also announced that Squid Game — which was released on Sept. 17 — had already become its "biggest show ever." At the time, Squid Game had been viewed by 142 million households, and was the most-watched Netflix show in the U.S. and 93 other countries.
Looking for International Growth
It's those 93 other countries (and more) where Netflix and its investors are looking for growth. At the end of Q3, Netflix had 74 million subscribers in the U.S. and Canada, and about 135 million through the rest of the world. The number in North America had plateaued in 2019, saw a boost in early 2020 as a result of the pandemic, then quickly plateaued again.
According to the latest U.S. Census, there are about 121 million U.S. households. In Canada, the number is just over 10 million. Some households may have more than one Netflix subscriber, but the numbers are pretty clear. Over half of North American households likely already pay for a Netflix subscription. The growth potential in this market is limited and any gains are likely to be modest. The company has wrung more revenue out of these subscribers with price hikes, but with intense streaming competition that can be a dangerous strategy.  
Internationally, Netflix has significantly more room to grow. In Q2 2018, revenue from those international customers exceeded U.S, subscription revenue for the first time ever. It has been aggressively pursuing growth outside the U.S., including experimentation to hook subscribers. For example, it offered a mobile-only plan for just $3 monthly in India in 2018. This fall, Netflix offered a free mobile plan in Kenya. There are challenges in many parts of the world, including limited internet access and much lower incomes, but Netflix is making inroads.
The strategy of becoming the preferred streaming service in these markets will pay off over the long term. Sheer numbers can make up for lower margins for now, and as subscribers become wealthier, Netflix can begin testing price increases.
Thinking Outside the Video Streaming Box With… Gaming
We tend to equate NFLX stock growth with gains in video subscribers, but the company is trying to change that equation. The company is now pushing into video games. Earlier this month, it launched a new gaming platform for iOS and Android, available through the Netflix app.
The move has potential. If it's able to build up a library of games, Netflix could make its service much more attractive to younger users. Games could also be tied into big shows, leveraging their IP. An all-in-one approach would also make Netflix more attractive in many international markets where leisure budgets are limited. 
Bottom Line on NFLX Stock
NFLX stock currently earns a 'B' rating in Portfolio Grader. Among the investment analysts tracked by the Wall Street Journal, it has a consensus "overweight" rating and a $683.45 price target. The company is not sitting still in the face of competition. It's making big moves to hook international customers while pushing into the potentially lucrative world of mobile gaming.
In other words, Netflix stock still has gas in the tank. 
On the date of publication, neither Louis Navellier nor the InvestorPlace Research Staff member primarily responsible for this article held (either directly or indirectly) any positions in the securities mentioned in this article.
Louis Navellier, who has been called "one of the most important money managers of our time," has broken the silence in this shocking "tell all" video… exposing one of the most shocking events in our country's history… and the one move every American needs to make today.