Up until two weeks ago, SoFi Technologies (NASDAQ:SOFI) stock was on a tear.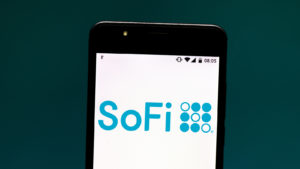 Source: rafapress / Shutterstock.com
After getting knocked back below $15 per share following its successful SPAC rollout, SOFI stock went on a strong run between late August and early November, delivering of strong quarterly results.
The fintech company was also boosted by reduced worries about monetary policy changes, which helped convince investors to jump back into growth stocks with full force.
Starting on Nov 16, however, the Chamath Palihapitiya-backed early stage company started to pull back once again. The stock dropped from about $23 to its current level of just over $18. More than just one factor (more below) is driving this sell-off.
Yet the largest factor at play, of course, is news of insider selling. Large shareholders have sold shares, all part of a 50 million share secondary offering. Sure, this by itself doesn't change the long-term prospects of this digital-first financial supermarket in the making. SoFi still appears set to eventually become a leading alternative financial institution, much like PayPal (NASDAQ:PYPL) or Square (NYSE:SQ).
If you hold a long-term position you may not want to cash out. But if you don't own SOFI stock yet, then it may be your best bet to wait and see. Sofi may fall back toward its 52-week low before the stock makes its way back above $20 per share again.
The Latest With SOFI Stock
Admittedly, insider selling isn't the only thing putting pressure on SoFi shares. For example, the sell-off in payment stocks, due to Covid fears and possible regulatory changes, extended over to fintech plays like SoFi.
But the secondary offering was the driving force as insider shareholders like SoftBank (OTCMKTS:SFTBY), Silver Lake and the Qatar Investment Authority unloaded some of their positions onto the public market. And Palihapitiya, the outspoken SPAC (special purpose acquisition company) sponsor, sold some of his stake as well.
You may see this 18% drop in price as the right time to buy the dip. After all, the temporary bout of bad news will pass, and investors will eventually shift their focus back to Sofi's strong growth prospects. Even so, if you're looking for an ideal entry point for a long-term position, you may not want to rush into it.
Besides the concerns raised by this profit-taking by insiders, another factor could put more pressure on SOFI stock. That would send it lower before it starts trending higher again.
Another Risk Is Still on the Horizon
As I discussed when I last wrote about SOFI stock earlier this month, the risk of rising interest rates is a big area of concern. Not so much for its operating business – in fact, higher rates would bode well for its profitability. Instead, the issue with rising rates is its possible negative impact on stock valuations, particularly in growth stocks.
Yes, so far there's been a lot of talk about rising rates, and very little action. The Federal Reserve, led by Chair Jerome Powell, has been willing to taper its "easy money" bond purchasing program. But as inflation stays high, Powell  and the rest of the Fed board may be forced to take on a more hawkish tone and raise interest rates.
How soon? It could happen in a matter of weeks, according to a prediction recently made by Wharton finance professor Jeremy Siegel. In an interview with CNBC, the market commentator said that the market is "one more bad inflation report" away from a correction. If the print inflation print is high, the Fed may be forced to make more aggressive action to fight rising prices.
In turn, this could cause stocks to correct. High-growth names like SoFi could experience declines above that of the overall market.
Take Your Time With SoFi
While I believe the popular fintech play has more room to drop in the short term, my take on it is not all doom and gloom. SoFi has many positive catalysts that could play out in the coming months.
For example, it could finally get its bank charter. In addition, the end of the student loan moratorium will improve results for its legacy student lending business. This points to it quickly rebounding after further weakness.
If insider selling/interest rate worries knock SOFI stock some more, consider it a buy. But until then, wait for the dust to settle.
On the date of publication, Thomas Niel did not have (either directly or indirectly) any positions in the securities mentioned in this article. The opinions expressed in this article are those of the writer, subject to the InvestorPlace.com Publishing Guidelines.
Thomas Niel, contributor for InvestorPlace.com, has been writing single-stock analysis for web-based publications since 2016.