The search for cheap altcoins to buy may be delayed by many investors. Indeed, we're in the midst of the latest market rout, with investors mostly hiding for cover in the crypto world.
This latest beatdown comes via contagion-related risks from the crypto exchange world. What's turned into a feud between billionaire CEOs into a buyout of FTX (CCC:FTT-USD) by Binance (BNB-USD), there's plenty for investors to digest right now.
Most top tokens are down on concerns that further liquidity issues could arise, given the volatile nature of digital assets which support many decentralized and centralized entities in this space. Indeed, many of these concerns appear warranted, given the number of high-profile blowups over the past year.
That said, zooming out and taking a longer-term view of this space, crypto is one area of the market where innovation and growth are happening incredibly fast.
Perhaps this growth rate will slow for some time, as will the amount of capital flowing into this sector. But when the bull begins to run again, investors who miss out on all the cheap altcoins to buy right now may be kicking themselves later.
With that said, here are three cheap altcoins to buy right now.
Decentraland (MANA-USD)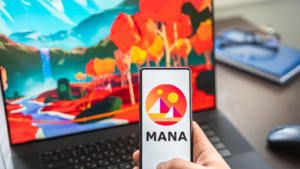 Source: Lichi / Shutterstock.com
A unique project in its own right, Decentraland (MANA-USD) is a key player in the burgeoning world of metaverse tokens. Essentially, Decentraland runs its own independent metaverse.
It is a virtual reality platform using the Ethereum (ETH-USD) blockchain and its native token, MANA. Users are free to explore this virtual world using any avatar they choose. On the MANA marketplace, they can buy land, clothes for their avatars, accessories, and much more.
The goal of this project is to make Decentraland a destination where a growing number of people prefer to hang out, do business, and engage in daily transactions.
While the meme coin rally continues, MANA is the first metaverse crypto to join this trend. During the previous week, this crypto plunged by around 16%.  However, volatility is a significant risk surrounding this crypto.
One of the reasons why MANA is a good penny crypto bet is because the coin is still a work in progress. Famous brands, such as Coca-Cola, JP Morgan, and Nike, have bought plots on this virtual land. Since the metaverse craze will not subside in the coming times, MANA will likely rise over the very long term.
Cardano (ADA-USD)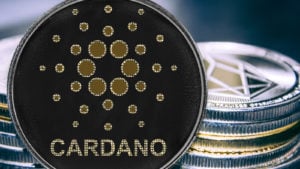 Source: Shutterstock
Over the past year, Cardano (ADA-USD) has emerged as one of the most active and busy digital assets in cryptocurrency. The debut of the hard-fork Alonzo in early September 2021 was indeed a crucial event for this crypto. The leading cause behind the massive price rise for ADA was this update, which attracted much public attention.
The long-awaited upgrade for Cardano Alonzo is finally here. So, its blockchain now supports smart contracts, enabling developers to create decentralized applications (Dapps) and explore the worlds of NFTs and DeFi. Many experts are of the opinion that several tech giants will enter the ADA ecosystem soon.
Following the Alonzo update, numerous developers have started working on blockchain applications. The coin also features an overall TVL of roughly $67 million, with Minswap, SundaeSwap, and WingRiders leading the charge.
Furthermore, with a market cap of around $13 billion, Cardano is one of the best penny cryptos to buy now. As of now, Cardano is trading at just around $0.37.
Curve (CRV-USD)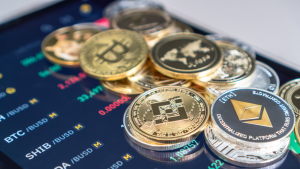 Source: Chinnapong / Shutterstock
One project I've been keeping my eye on that I think is worth looking at right now in the world of altcoins is Curve (CRV-USD). This automated market maker provides liquidity for stablecoin trading pairs.
That's right, the kind of activity that's gotten many centralized exchanges into trouble of late. Whether we're talking about FTX or another exchange, there are plenty of examples in the crypto world where leverage isn't a friend.
Fair enough. But for markets to be efficient, derivatives and other hedging strategies are often needed. For sophisticated markets to grow, one can argue that automated market makers are a necessity.
Here's where Curve steps in. Via the platform's liquidity pools, which connect those with liquidity to large traders looking to put on a position, markets can function efficiently. Along the way, Curve takes a slice of the action, acting as a true intermediary. Thus, this model has lower risk, and is also decentralized. For those looking at the future of how DeFi may shape crypto trading, Curve is a "picks and shovels" way to gain exposure to this space.
On the date of publication, Chris MacDonald did not have (either directly or indirectly) any positions in the securities mentioned in this article. The opinions expressed in this article are those of the writer, subject to the InvestorPlace.com Publishing Guidelines.
Chris MacDonald's love for investing led him to pursue an MBA in Finance and take on a number of management roles in corporate finance and venture capital over the past 15 years. His experience as a financial analyst in the past, coupled with his fervor for finding undervalued growth opportunities, contribute to his conservative, long-term investing perspective.